By Breeda Kelly Miller
While I am the only one on stage during my play, Mrs. Kelly's Journey Home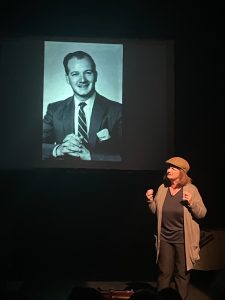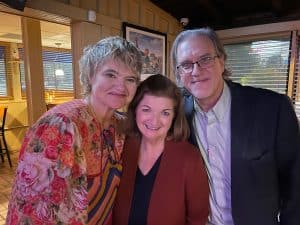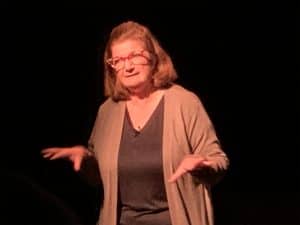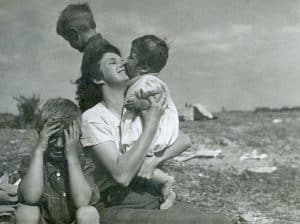 , there were many people who worked hard to make this show come to life. Apart from my family, who served as actual characters and provided much-needed comic relief, I found myself surrounded with people I had never known who stepped up, contributed their time, talent, and rehearsal space to make this dream come true.

"The moment one definitely commits oneself, then Providence moves too. Whatever you think you can do, or believe you can do, begin it. Action has magic, power, and grace".
and
"At the moment of commitment, the entire universe conspires to assist you". JoHann Wolfgang Von Goethe
In the beginning…
It all began nearly ten years ago with an amazing story about my mom at the end of her life and how despite my exhaustion and frustration, I found a way to ease her anxiety and give us both a smile during a very difficult time. I told this story for The Moth in Ann Arbor and a producer in New York heard it and decided it was worth sharing on the national Moth Story Hour on public radio. The overwhelming response told me I had something to say and that my point of view could help others. I began a professional speaking career and wrote two books about self-care with the common theme, Take a Break Before You Break.
It's all about the story
Storytelling has always interested me, not fantasy or fables, but I love ordinary situations told from an extraordinary point of view. I was introduced to Brian Cox, who is an award-winning playwright, author, newspaper editor, and lover of great stories and he invited me to tell a story at one of his storytelling productions, Snapshots. I wrote a new story about my family's emigration to America and we met to discuss it. At the end of our first meeting he said, not unlike Columbo, I want to say three words and you should think about them. "One Woman Show. He said what I had not dared to even consider, but had dreamed of all my life.

The process
CoVid turned all our best-laid plans upside down and rearranged our lives and our priorities. In early 2021 I asked myself a key question, "What would I do if I knew I couldn't fail?" The answer came easily and quickly. I would write a play and perform it all over the country and other countries, if they would have me. I began researching and learning and then I began writing. Originally I thought I would write a book with my best stories and then select the ones that would work best for a show. Instead, I ended up writing the play (and now am writing the book with all the stories and details I had to leave out of the play) in about two months. Then the painful re-write process began. Ten versions later, after brilliant insight and input from Brian and my husband, Jim, Mrs. Kelly's Journey Home was ready for an audience.

Providence moved
Apart from the solitary experience of writing and then actually performing on stage a professionally produced play requires many people with many specialized skills and talents. Seemingly out of nowhere they appeared and were willing and able to assist me. Rebecca Groeb, a highly experienced actor/director/producer joined our team and provided a keen eye and wonderful suggestions, as well as a great rehearsal space. Dozens of friends and colleagues attended table readings and rough preview performances to help shape and refine the play with their thoughtful comments and suggestions. My accountant offered her conference room as extra rehearsal space, Conor O'Neil's Irish Pub provided the preview performance space, the production team at the University of Michigan coordinated the world premiere at the fabulous Arthur Miller Theater, musicians from the renowned traditional Irish group, Kennedy's Kitchen provided the perfect music pre-show and during the intermission as well as the uplifting segment in the final moments of Mrs. Kelly's Journey Home. Financial support from friends, family, and colleagues helped tremendously. Margarita Gurri provided endless encouragement and recorded video comments from audience members. Professional photography by Yellow Door Brand, Andreus Browne, and Videography from Red Couch Digital, April Jones recorded the magic. Peter Kelly of Peter Kelly Media in Toronto created the fabulous highlight video reels. Despite the limitations of a live, in-person performance during a pandemic, the world premiere was a great success with over 300 audience members in attendance.
It happened
So many people offered help and support. Props were offered and donated, social media shares and testimonials were recorded. The thing is, I never felt like this was a one-woman show. I know when I am on that stage I am never alone. My mom, my dad, my husband and kids, my brothers, Mrs. Wilson, my aunties, Father Will, and even my Granny Kelly are all with me and carry me through. What would I do if I knew I couldn't fail? I'd harness the love and support of my family and friends and put it on stage. Mrs. Kelly's Journey Home has a message of love, light and hope. You don't have to be Irish or a caregiver to enjoy the experience. It's about family and the experiences of an ordinary woman with an extraordinary point of view.
What would you do if you knew you couldn't fail?
Breeda Kelly Miller
Dates available now for 2022 performances – fundraising or special event performances are perfect for Mrs. Kelly's Journey Home.
www.Mrskellysjourneyhome.com