The reviews are in! Mrs. Kelly's Journey Home is a smashing success and a must-see experience. Buckle up for a roller coaster of laughs and tears. And tea. Lots of tea.
Mrs. Kelly's Journey Home is an original work that brings to the stage the experiences that are often unspoken by so many generations of immigrants and adults caring for aging parents.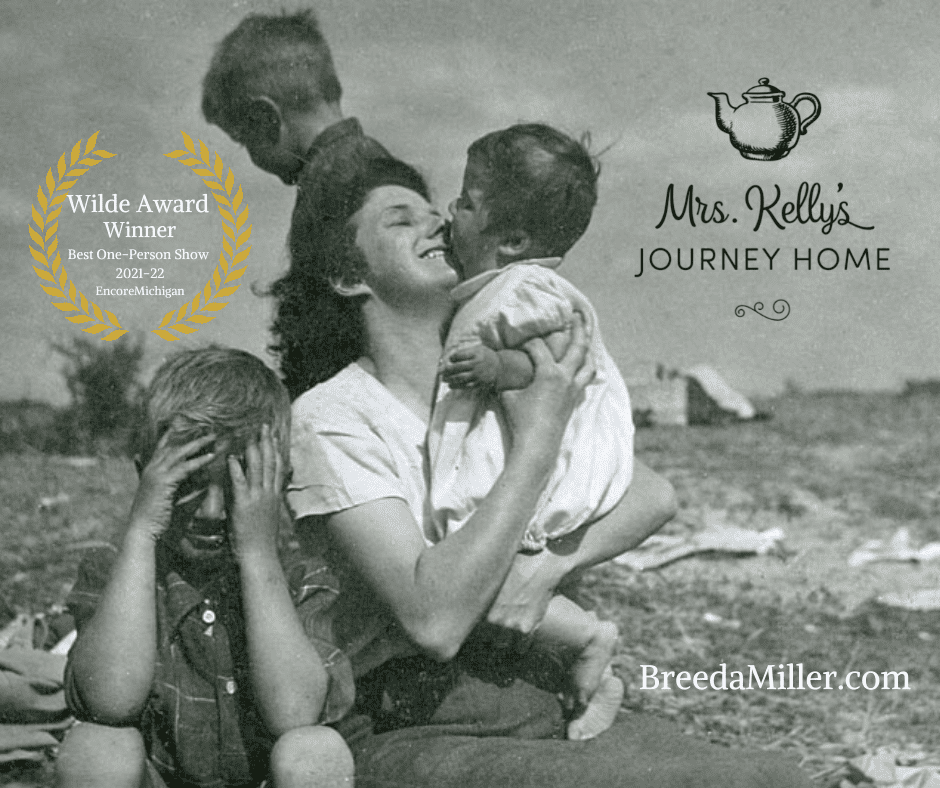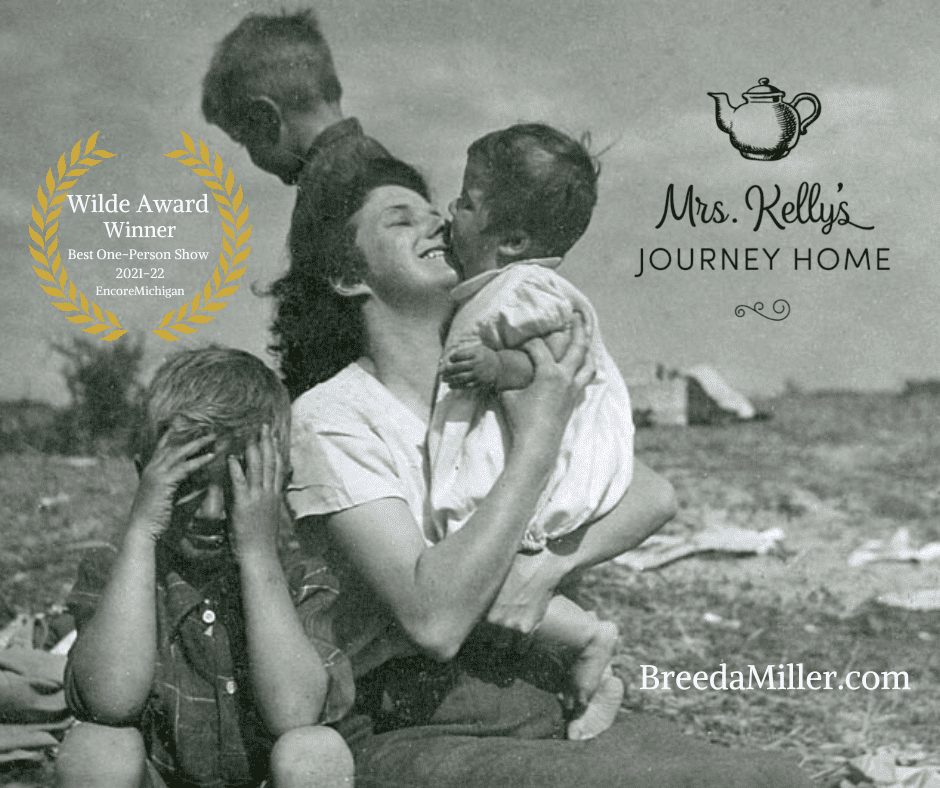 Welcome to a soft spot to land.
If you're feeling stressed out, burned out, frustrated or exhausted, you are not alone. My name is Breeda Miller and I can help you Take a Break Before You Break.
Mrs. Kelly's Journey Home
An original work written and performed by Breeda Kelly Miller
Mrs. Kelly's Journey Home is the story of a woman's journey from Ireland to America and her struggle with dementia in her later years. This show brings to the stage the experiences that are often unspoken of by so many generations of immigrants and adults caring for their aged parents.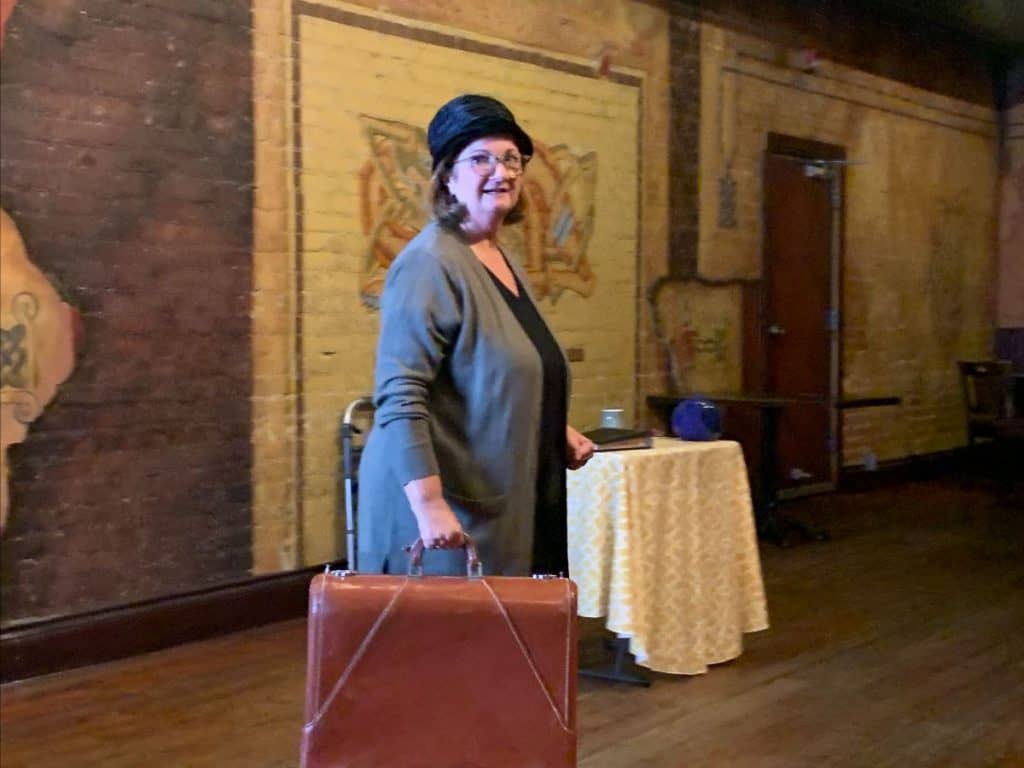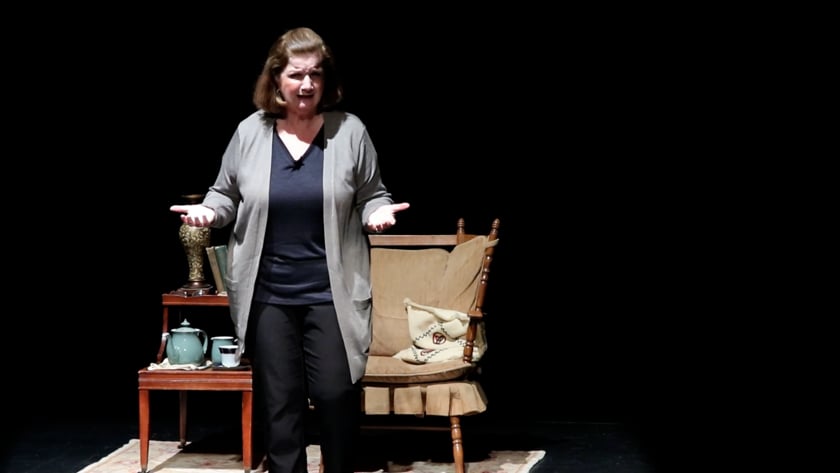 See highlights from Mrs. Kelly's Journey Home
❝We could not stop talking about it❞
"Breeda Miller had the audience in the palm of her hand from the first moments of the play to its last. She not only played all the characters herself, but she also brought them convincingly to life without even any costume changes. Ms. Miller's well-crafted script never became sentimental or maudlin due to her skills in blending pathos and humor. Driving home, we could not stop talking about how this play impacted and delighted us."
Kitty Dubin, Playwright
Lecturer in Playwriting, Oakland University
I Was An Accidental Caregiver
I was my mother's caregiver for many years - including hospice care in my home. I had no training, no experience. I didn't know what I didn't know.  All I knew was that I loved my mother.
I wasn't prepared to deal with the exhaustion, frustration, and isolation I experienced as a family caregiver. I was shocked by the sense of isolation and loneliness I experienced. That's why I wrote The Caregiver Coffeebreak and I speak to groups to help Caregivers Carry On, using memorable stories to create impact.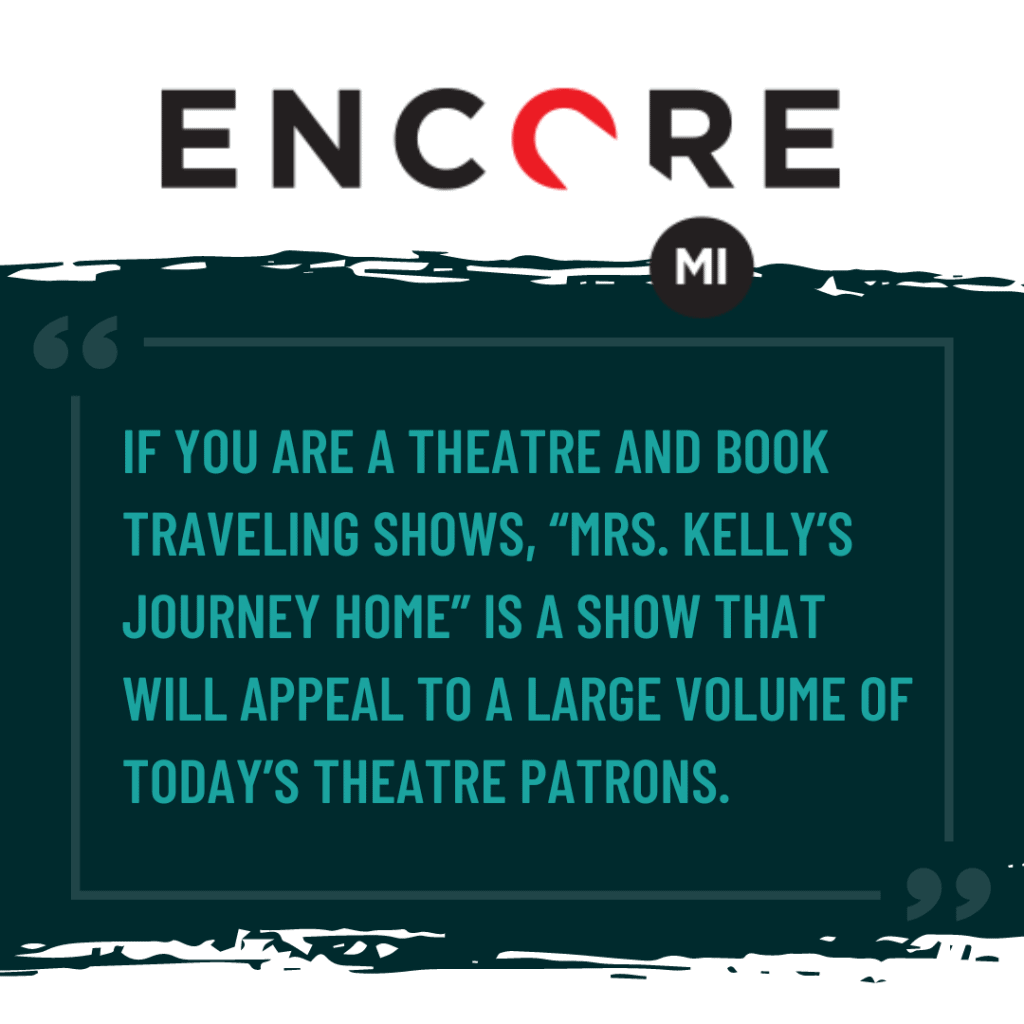 REVIEW
"Mrs. Kelly's Journey Home" is a gift of a story
Check out Encore Michigan for David Kiley's feature article and review of Mrs Kelly's Journey Home: "When you see that Breeda Miller is performing her one-woman show, "Mrs. Kelly's Journey Home," make a point of seeing it. A poignant and well-written memory piece about Miller's Detroit/Lincoln Park upbringing and her subsequent experience caring for her mother for six years, her story does a superb job of connecting with her audience." ...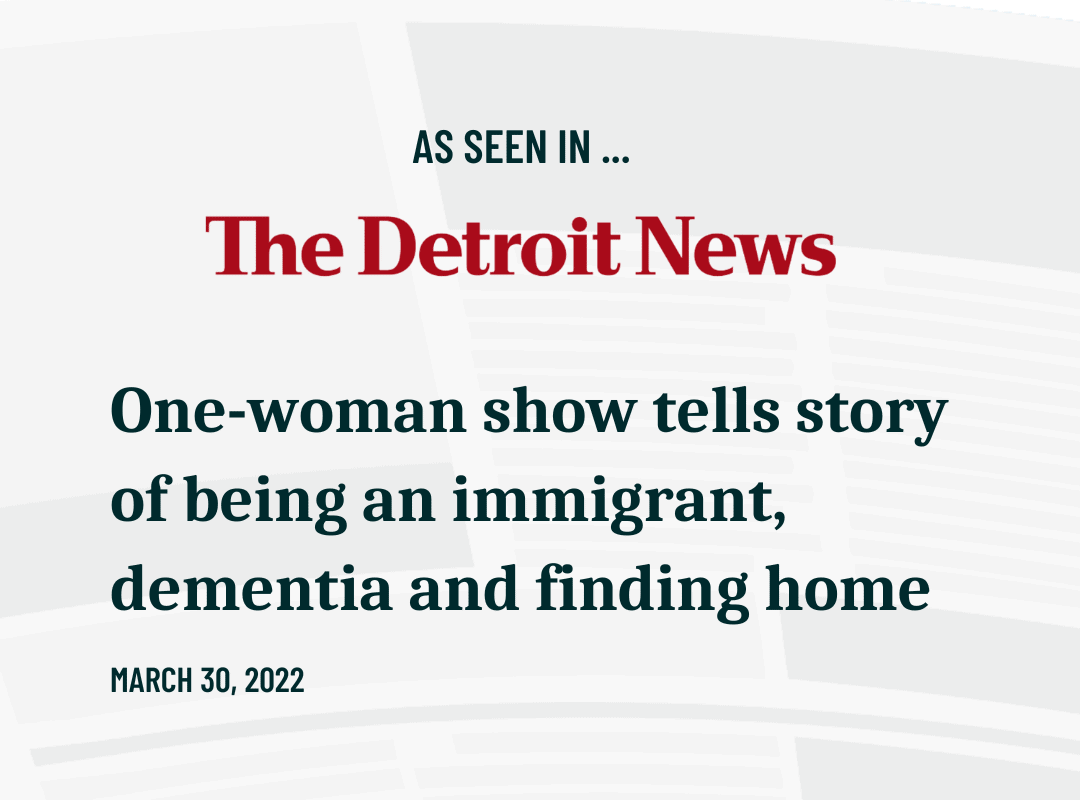 FEATURE ARTICLE
Hitting the Big Time! Mrs. Kelly's Journey Home featured in Detroit News
On Monday, May 30, on the front page of the Arts and Style Section of the Detroit News the article was published: "One-Woman show tells story of immigration, dementia and finding home" (by Maureen Feighan, Detroit News, 5/30/22). I am gobsmacked. Maureen Feighan is an extraordinary journalist. She captured the essence of this play and wrote an article that touched my heart with it's candor and truth. I hope you take a moment to read it and please share with anyone you think might be interested in being part of Mrs. Kelly's Journey Home. It's a wild ride and the best thing I've ever done.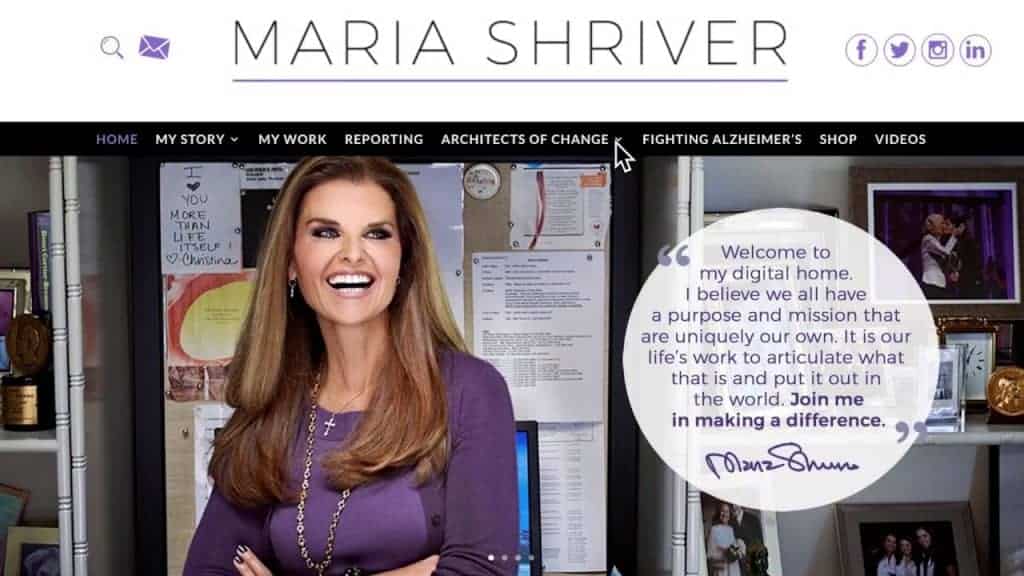 As featured in ...
Maria Shriver's Sunday Paper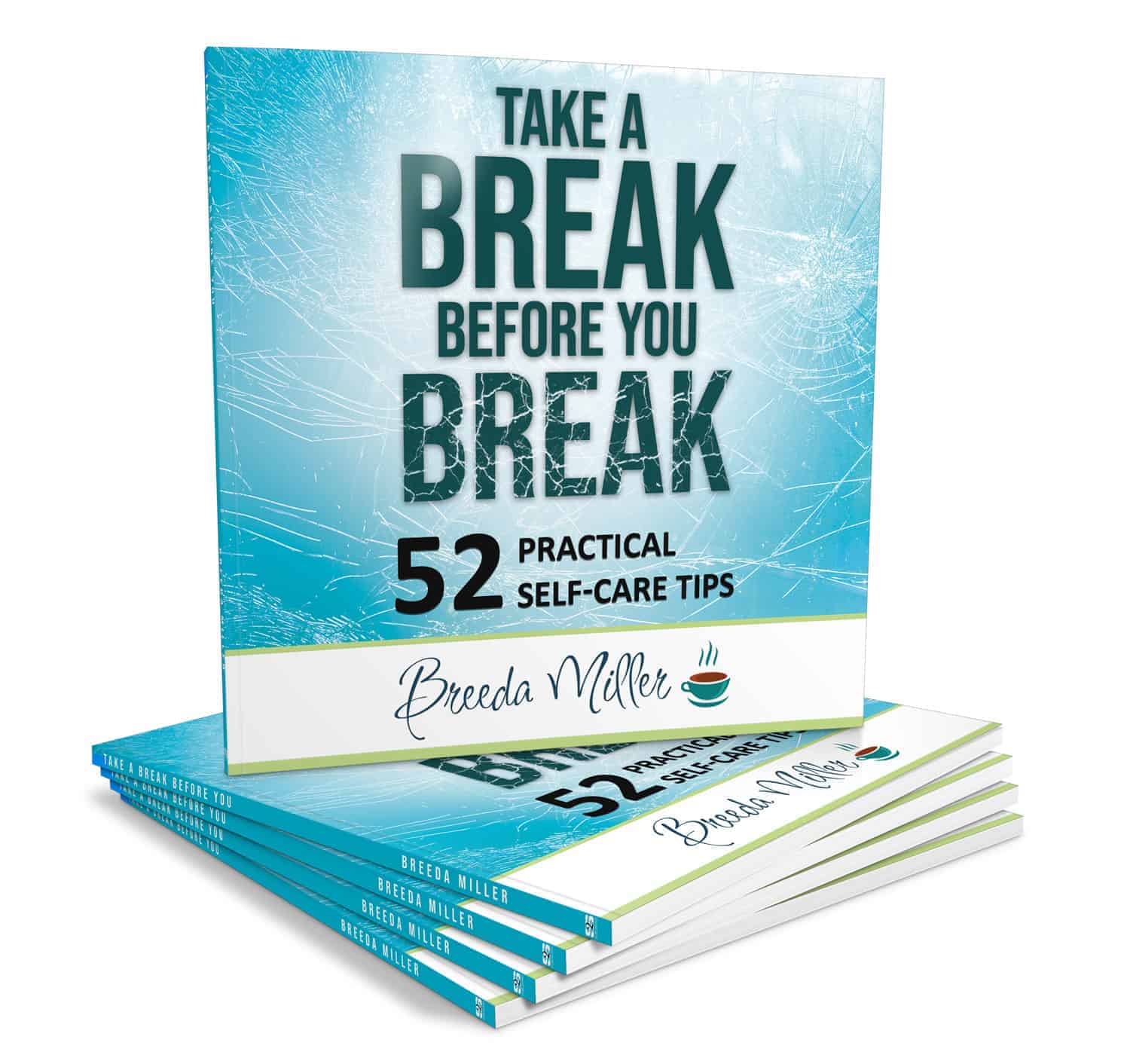 Breeda's Latest Book
Take A Break Before You Break
52 Practical Self-Care Tips: Breeda's newest book is filled with inspiration and practical ideas for anyone who needs a nudge to take better care of themselves. Concise and filled with good humor, this tip book is just what the doctor ordered for anyone who is feeling overwhelmed, exhausted, and just too tired to think of something for themselves. Good things come in small packages and this book is just the ticket.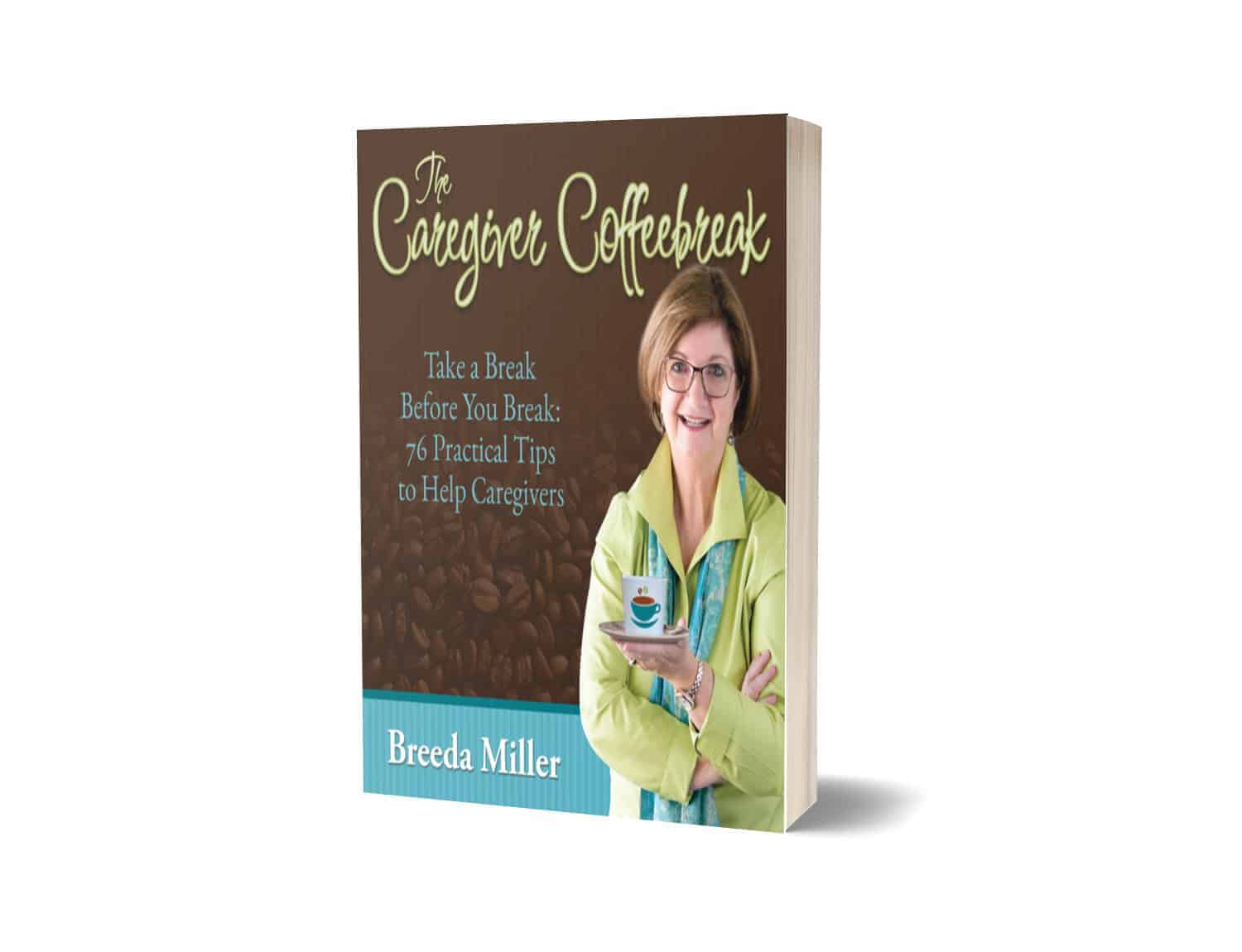 Read all about it ...
The Caregiver Coffeebreak
76 Practical Tips to Help Caregivers: This little book offers caregivers clever solutions, inspirational ideas and great resources. It's small and easy to read for exhausted caregivers who need to find quick and easy ideas and suggestions.
Take a Break with Breeda
Breeda shares helpful tips for caring for people who might have CoVid in your home, a caution about a common over the counter med for elderly folks, and a word about the Big G. The most useless and energy-sucking emotion of all, Guilt. Pour yourself a cuppa and Take A Break with Breeda.