Has Compassion Fatigue Impacted You?
Compassion fatigue is often called burnout. Professional advisors who serve aging clients are often the first to recognize cognitive decline and elder fraud. This knowledge and the need to find effective and diplomatic methods of supporting clients create a stressful situation that can lead to compassion fatigue and ultimately, burnout.
I help professional advisors recognize the symptoms of compassion fatigue, understand the impact and find creative ways to reduce stress.
What is Compassion Fatigue?
Serving your clients can be overwhelming when you are navigating diminished capacity, dueling family members and physical decline. Not yours, your clients. But if you aren't able to get a handle on stress and self-care strategies you could end up being less effective and unable to serve your clients. I can help.
My program helps create awareness, develop a resourceful, positive attitude and understand the importance of mental agility in problem solving and adaptation. It's an energizing and interactive program perfect for conferences and team building programs.
Contact me directly to create a program for you. 734.428.0847 or [email protected]
Website: BreedaMiller.com
I Was An Accidental Caregiver
I was my mother's caregiver for many years - including hospice care in my home. I had no training, no experience. I didn't know what I didn't know.  All I knew was that I loved my mother.
I wasn't prepared to deal with the exhaustion, frustration, and isolation I experienced as a family caregiver. I was shocked by the sense of isolation and loneliness I experienced. That's why I wrote The Caregiver Coffeebreak and I speak to groups to help Caregivers Carry On.
I Help You Help Them.
Right now, there are 45 million family caregivers in the United States.  The number is only increasing and the role of caregiving impacts financial decisions, physical and mental health and careers.
How Can I Help You?
Providing supportive services to caregivers can be stressful. I help professionals learn by providing an engaging and impactful program filled with tactics and stories that will help your organization work with and support family caregivers.
Three programs. Three audiences. 
Compassion Fatigue - Consequences and Solutions
Designed for Professional advisors
An engaging, interactive program designed to help your organization recognize, adjust and mitigate compassion fatigue.
Learning Objectives:
Awareness - recognize the signs and implications of compassion fatigue
Attitude - understand the power of attitude and reactions to client circumstances.  Learn creative techniques for managing and developing a greater sense of control over your attitude.
Agility - Develop greater mental agility to be able to respond and serve your clients in a creative, compassionate and professional manner.
Take a Break Before You Break – Self Care For Caregivers
Designed for family caregiver events
Caregivers are the worst at taking care of themselves.  Everyone and everything comes first.  At the end of the day, caregivers are burned out, stressed out, frustrated, and exhausted.  Through the power of story, Breeda Miller helps caregivers commit to taking care of themselves and in turn, take better care of those in their care.  Interactive, engaging and heartwarming this 45-minute program is a break in itself.
My motto, "Take a break, BEFORE you break" is just what the doctor ordered.
The Caregiver Coffeebreak at Work
Designed for Employee Assistance Programs
Balancing a career while being a family caregiver is a huge issue for millions of Americans.  For employers, it the need to retain skilled professionals during this stressful time. For employees, the challenges can create disruption across organizations.  Breeda Miller provides employers with a program that offers employees an opportunity to learn coping strategies and discover resources to allow them to be at their best and remain a productive team member.  Engaging, interactive and memorable, this program helps reinforce a mindset of cooperation and support.
Book Breeda to speak at your next event
To get in touch with Breeda Miller about speaking at your upcoming event:
Legal and Financial Advisors seeking to support clients concerned about caregiving roles
Healthcare organizations who want to support nurses, CNAs, therapists, and staff.
Insurance Organizations seeking to provide helpful and entertaining programming for conference attendees
HR professionals seeking to provide a fun and practical presentation to support caregiving EAP programs.   Caregiver Coffeebreak AT WORK book coming soon!
Organizations supporting adults who care for their aging parents and/or spouses at conferences or retreats.
Call: (734) 428-0847
Email: [email protected]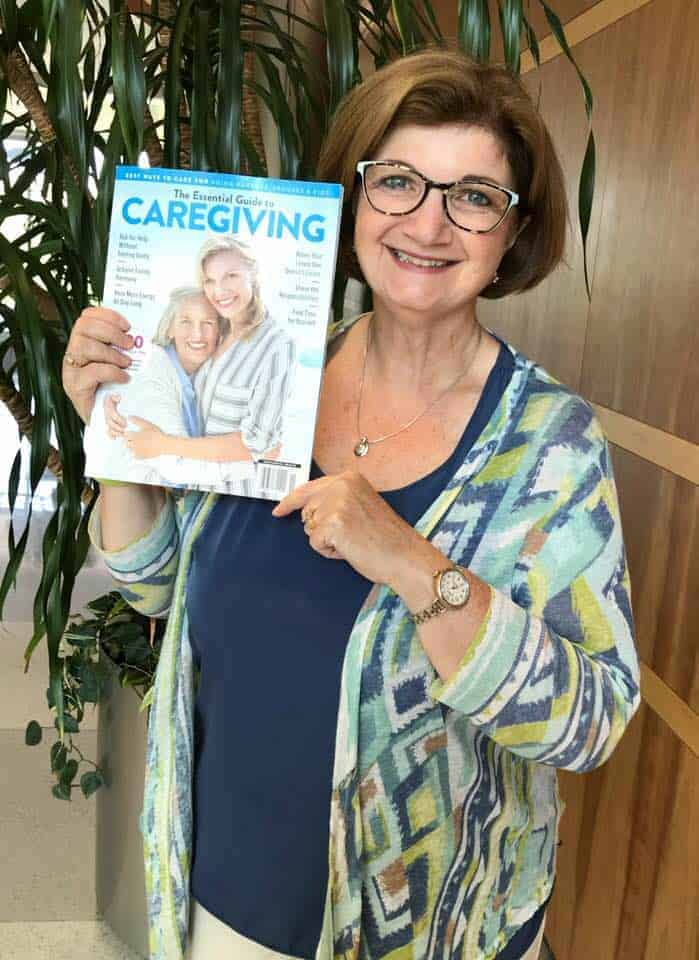 Essential Guide to Caregiving
Breeda Miller was recently featured in the national publication The Essential Guide to Caregiving, Centennial Media, 2018.
Appearances, Affiliations, and Awards