I tease my husband Jim and tell him I love him in spite of the fact that he is gift-impaired. He totally agrees. He is not a shopper and has rarely purchased a great gift all on his own. But he is an epic giver and one of the kindest people I have ever known. We've been together for nearly 40 years and I think my parents loved him more than they loved me. And they loved me a lot.
Leaving Ireland
My father was especially fond of The Jimser. I heard once that it's much easier to be a son-in-law than a son. You come to the relationship as an adult and don't have issues from childhood to get in the way. My Dad emigrated from Ireland in the 1950s. He was a printer and said he wanted a better life for his family. So, he told my mom (she was not thrilled with the idea) and found a job in Toronto, Canada at the Toronto Star newspaper. My father never liked Canada because he thought Canada didn't like him. He recalled signs in windows saying "No Irish need apply". Not terribly welcoming for a Dubliner trying to find his way on his own. His goal was to get to America and he had to go through Canada first. He always said he couldn't wait to find a way to get to America. An Irish friend told him about a job at a newspaper in Detroit and he found his way to Windsor via train and took a bus across the bridge to Detroit. He landed the job at the Detroit Free Press, found a little house to rent and sent for my mom and three brothers.
Coming to America
My mom had to get all the travel documents in order, sell their home, and pack up their worldly belongings. She had to decide what to bring to this new life in a new country. She was limited both in terms of the number of items and the weight. Evidence of this life-changing move was the big brown leather trunk in our basement. Painted in red letters on the side of the trunk: T Kelly, Detroit via Montreal. My mom filled it with Irish woolen blankets, precious pots and pans, an heirloom teapot and other essentials. As a child, I never thought much of this massive old leather beast. We used it to store Christmas ornaments for many years. It lived unceremoniously under the stairs in the basement only seeing the light of day in early December and then again in early January when it was emptied and re-filled with tinsel, old-fashioned glass ornaments, and tangled strands of giant Christmas lights. Years of dragging it up and down the basement stairs and storing it in a dark musty basement did nothing for its appearance. Yet it survived.



Emptied and Forgotten
Dad died in 1993 and the old leather trunk came with my mother when she moved in with us when she was no longer able to live on her own. It was filled with old papers and jumbled stacks of black and white photographs and boxes of slides. After my mom died we went through all the photos and the trunk went back to the basement. It sat forgotten on a shelf in our farmhouse until two weeks ago. We had just finished redecorating our entry and needed a bench. The bench in the family room was serving as a coffee table but it suited the entry better so we moved it. We now needed a coffee table and began hunting around the house to see if we had something that would work. We spied the old leather trunk in the corner of the basement and Jim said he might be able to do something with it. We had emptied it years ago and it was just waiting to be useful. I had no idea how this sagging, scarred and dusty old trunk could be transformed into a useful piece of furniture but Jim was willing to give it a go.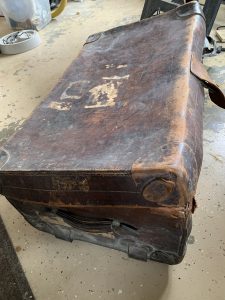 Creating Magic
He began by building a wooden frame to strengthen the case and give it a good shape. He bought four squatty legs, some brass screws and set to work. He measured, and sawed and fitted and re-fitted the wooden frame. Like magic, the old leather trunk began to take shape, literally. The wooden frame smoothed out the sagging leather and the legs were just the right height. A good cleaning with saddle soap and the old trunk glowed. To say I am delighted with this precious gift is a gross understatement. I love it more than I can even describe. It's a treasured family heirloom that is front and center and has become a useful member of the family once again – nearly 70 years later. It's truly an epic gift and I shall never think of JIm as being "gift-impaired" again. He's not a shopper, but he is a world-class giver. The old leather trunk is a great reminder that we are never too old to be useful. Sometimes we just need a bit of tender loving care.