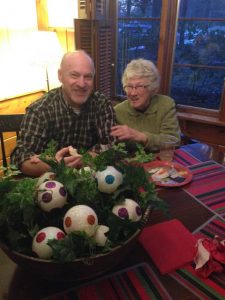 I'm not talking about that pesky wiry hair that pops up out of nowhere on your face – I'm talking about the legion of male caregivers that are stepping in and stepping up to care for their aging parents, partners and children.  Often caregivers are only considered to be female (though that is certainly the majority) and efforts to support and provide comfort are focused on the needs and preferences of women.
We need to rethink this.  Loving care is loving care.  Providing such care is exhausting, frustrating and isolating at times.  It's even more so for the men who have stepped up to fill this critical need, as they are often overlooked and unappreciated.
I like to say, "Caregiver Appreciation Day is …… Everyday!".   As I go about spreading the word and reaching out to caregivers across the country, I have had many requests for ideas to show appreciation to male caregivers.  Just as it can be hard to buy meaning gifts for men in general, buying something to provide comfort and a bit of indulgence can be a challenge for someone you might not know very well.
Here are some ideas to send a bit of appreciation to a male caregiver – whether it's a gift box or a card with a special gift card inside, the message of appreciation will certainly be appreciated.
Caregiver Gift Ideas for Men
Edible Treats – Freshly baked cookies and bars, fresh fruit, favorite sweets (from licorice to bubble gum), homemade, local or mail order.
Magazine Subscription – if they don't already subscribe – a special interest magazine can be a great way to relax and unwind.
Crossword Puzzle or Word Game books
Back Scratcher
Sleep Mask
Unscented really good moisturizer (Kiehl's is wonderful)
A luxurious lap blanket
Gift cards to coffee shops
Helpful books (Like The Caregiver Coffeebreak!)
Audible Gift certificate – download audio books
Netflix Subscription
Comfortable good quality ear buds or headphones
10 ft phone charging cord and wall charger
Inspiring or uplifting books of short stories or biographies
These ideas would be appreciated by women as well, of course.  My point is that the best way to show appreciation is to understand what would make life a bit easier, bring a bit of joy and truly show a caregiver that you notice and respect what they are doing. It's all about learning to Take a Break, Before You Break.    Carry on.