Whether you need a hands-on, interactive break out session, or are looking for a compelling closing keynote speaker to tell the story of your conference - Breeda Miller can help.
800,000 views in less than a week. WOW.
Who knew that a little story about helping my mother at the end of her life would resonate with over 800k views in less than a week?  I certainly didn't.  My story was shared on social media and the comments and shares were overwhelming - messages of impact, appreciation, and connection.
A compelling story evokes memories, solves problems and helps people.  We are hungry for connection and stories are the most powerful and authentic way to connect with each other.
Data Schmata.  The facts and statistics about your product or company are important, but if you haven't built trust and your clients don't know you, it's not likely to get you where you want to be.
The Struggle is Real
Do you struggle to find a way to share your expertise in a meaningful way so that you can help people understand what you do and how you can help them?
This is where Strategic Storytelling steps in to save the day. Well-crafted stories teach, entertain and help people learn (and remember) better than just about anything. Data is important AFTER you have made your case and engaged your audience.
I can show you how and I can provide your organization with an effective and entertaining program to get your message across clearly and memorably.  Call me and we'll chat.
Strategic Storytelling Means Business
Whether you need a hands-on, interactive break out session or are looking for a compelling closing keynote speaker to tell the story of your conference and wrap it up in a memorable bow - I can help.
A strategic solution
Contact me directly to create a program for you. 734.428.0847 or [email protected]
Here's part of my story - I'm a storyteller. I've told stories at The Moth Story Slams and have been broadcast on The Moth Story Hour on NPR. I have a video that has gone viral (as you know).  I've worked in marketing, sales, and advertising.  Fundraising for nonprofits has been a passion of mine for many years.  Helping people find the right story is all about understanding the audience and what is meaningful to them.  I love stories and I'd love to help you find yours.
I Was An Accidental Caregiver
I was my mother's caregiver for many years - including hospice care in my home. I had no training, no experience. I didn't know what I didn't know.  All I knew was that I loved my mother.
I wasn't prepared to deal with the exhaustion, frustration, and isolation I experienced as a family caregiver. I was shocked by the sense of isolation and loneliness I experienced. That's why I wrote The Caregiver Coffeebreak and I speak to groups to help Caregivers Carry On.
How Can I Help You?
I can teach your group how to craft compelling stories, I can entertain and inspire your group with some great stories (if I do say so myself) AND as a closing keynote speaker I can weave the memorable moments of your conference in a closing presentation that will send off that will provide your participants with a clear message and sense of purpose.
Book Breeda to speak at your next event
Whether you need a keynote speaker to provide a high content, actionable program for professionals or a supportive client appreciation event, Breeda can make it happen.
Legal and Financial Advisors events designed to cultivate new clients or show appreciation to current clients.
Healthcare Conferences and Association events seeking innovative strategies to connect with stakeholders.
Organizations supporting adults who care for their aging parents and/or spouses at conferences or retreats.
Call: (734) 428-0847
Email: [email protected]
Closing Wrap Up Keynote
Designed for conferences and association events
An inspiring and energetic program that wraps up the key elements, memorable moments and essential take-aways from your conference into my presentation.
I will spend time at your entire conference attending sessions, connecting with participants and learning what your goals are for your event.  I then craft a personalized closing session that drives your message home with gentle humor and great stories.
Strategic Storytelling Means Business
Perfect for marketing teams, fundraisers and entrepreneurs
You've heard about this new-fangled technique that is all the rage?  Storytelling as a way to market your organization.  You know storytelling has been around as long as people have been able to communicate with each other.  I love it that it has been rediscovered and I will share with your group - through the power of story how to be strategic, effective and memorable. Outcomes include:
Understand the essential elements of strategic storytelling
Learn techniques to engage and keep your audience's attention
Build confidence in your ability to effectively communicate your message to clients, colleagues, and anyone within earshot.
Call me and I will work with you to develop the breakout session that will serve your needs.  734 428 0847.
Take a Break Before You Break – Self Care For Caregivers
Designed for family caregiver events
Caregivers are the worst at taking care of themselves.  Everyone and everything comes first.  At the end of the day, caregivers are burned out, stressed out, frustrated, and exhausted.  Through the power of story, Breeda Miller helps caregivers commit to taking care of themselves and in turn, take better care of those in their care.  Interactive, engaging and heartwarming this 45-minute program is a break in itself.
My motto, "Take a break, BEFORE you break" is just what the doctor ordered.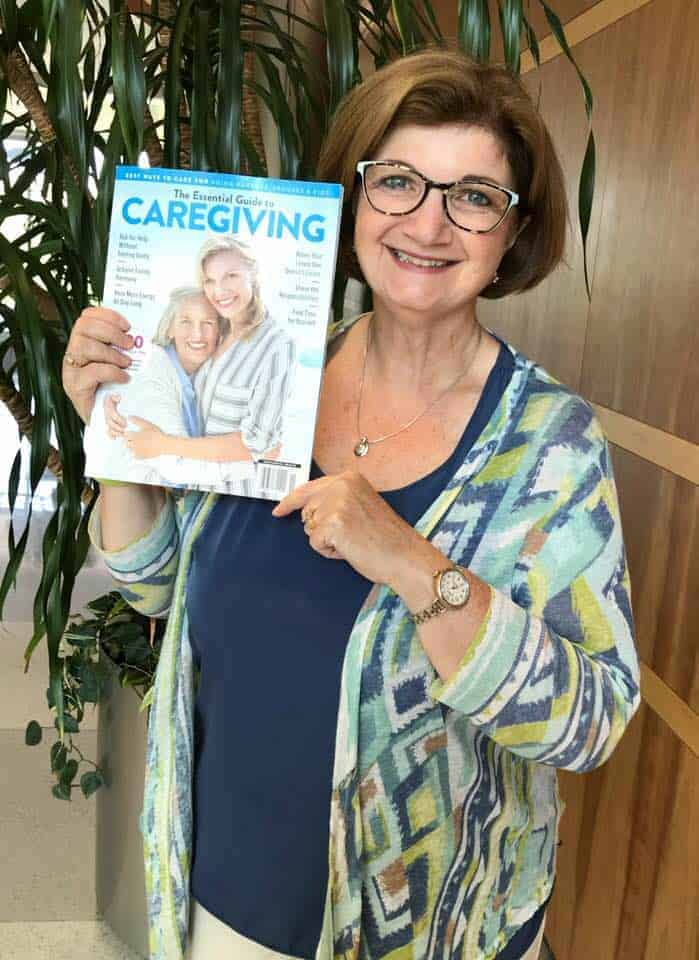 Essential Guide to Caregiving
Breeda Miller was recently featured in the national publication The Essential Guide to Caregiving, Centennial Media, 2018.
Appearances, Affiliations, and Awards