When Mom was getting ready to leave her condo and move in with us one of her biggest concerns was her precious tea pot collection.  A nice cup of tea was an essential part of my mother's life—always with a good tea pot and a beautiful china cup and saucer. On her  trips home to to Ireland she often traveled back to Michigan with a new teapot. The pots were usually gifts, a family heirloom from an ancient auntie. Mom's preferred mode of transport was to carry it on her lap, wrapped in a linen tea towel. She had a lovely collection of Waterford Crystal and a few nice pieces of jewelry, but it was her teapot collection that was most dear.
To ease her transition to our home, my husband Jim offered to build a special shelf circling our dining room. This beautiful shelf was a perfect showcase for her porcelain stash—they were safe and visible and she could admire them everyday. Some of the pots belonged to her mother and are now well over 100 years old. A cup of tea was a ritual that my mother enjoyed right up to her final days. After a long hard day of shopping as soon as we turned onto our road my mother would exclaim "I could murder a cup of tea!" She found almost all restaurant tea to be unacceptable – they typically served luke warm (never boiling) water, a tea bag in a paper envelope and a jug of half and half (a cardinal sin – milk only, never cream). She would always drink coffee when we were out rather than go through the blasphemy of restaurant tea.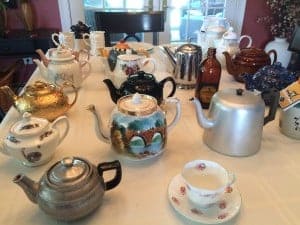 So on this chilly fall afternoon I got my stepladder out and took each teapot from its perch, ever so gently. I washed and dried and placed them back in their spots of honor. I thought I had dried them well but when I carried the last one up the ladder I saw a glistening drop on the lid. I wiped my eyes and made myself a really decent cup of tea.