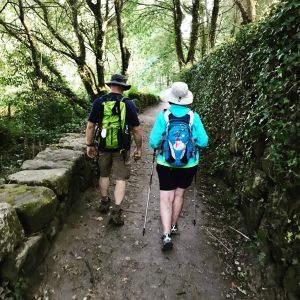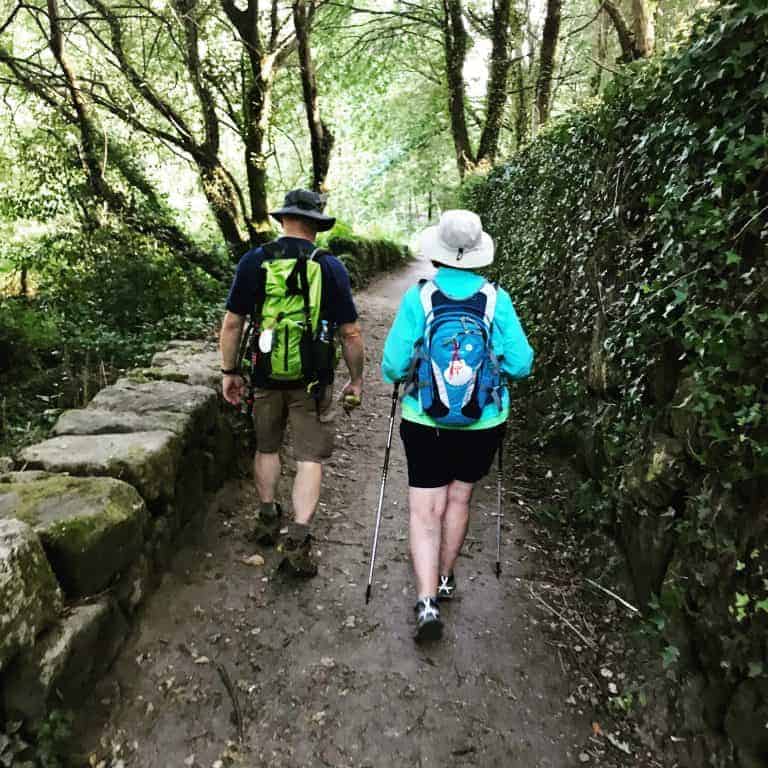 Fall is in full swing, I know because there is pumpkin-spiced everything available.  I look forward to the change of seasons and I hope you are able to get outside and enjoy this time of year.  Caregiving can be even more isolating in the winter, try to plan some ways you can care for yourself and connect with others.
A summer adventure
This summer, my husband and I took a little walk in Portugal and Spain.  We walked from Portugal through Spain to the ancient city of Santiago.  We walked the Camino de Santiago – The Portuguese Route. 200 miles in about two and half weeks.  To say it was an extraordinary experience is the understatement of the year.  Three years ago my husband walked the French Route, made famous to Americans in Martin Sheen's movie, The Way.  500 miles from the foot of the Pyrenees Mountains in France to Santiago, Spain.
Walking the Camino de Santiago
The Camino de Santiago is an ancient pilgrimage that people have followed for thousands of years.  The bones of the Apostle St. James are said to buried under the cathedral in Santiago.  There are many routes to Santiago, but they all lead to the same place. The Cathedral.   We walked about 17 miles every day for 16 consecutive days, with one rest day in the middle.  We carried our essential supplies in backpacks – the most important being water (which is very heavy) and stayed in small hotels and B & B's along the way.  I learned so many things on this journey the most important being that I am capable of far more than I ever thought possible.
Not really my cup of tea
You see, this journey was way outside of my comfort zone.  I am not an athlete, I don't participate in organized walks, runs or any sport. My idea of a workout is putting on my sports bra.  I enjoy a nice stroll on a pleasant day – but to tackle this adventure was something that I never considered, or even desired.  After his first Camino three years ago, Jim told me the impact the experience had on him.  He said it was the greatest thing he had ever accomplished, and he wanted to do it again.  And he wanted me to do it with him.
When we received a gift of two plane tickets to anywhere last year, my first thoughts were of beautiful exotic beaches and relaxation.  Jim suggested we walk the Camino instead.  I resisted. This was not my idea of a vacation.  Then I considered how much he really wanted to do this again and how I didn't have my heart set on any particular destination.  So, I agreed as long as we had some comforts (like hotels and luggage transports) and that I couldn't be gone longer than 2 weeks or so.  We set out to find the best route and settled on the Portuguese Way as it was manageable and beautiful.  We bought new shoes, trekking poles and other gear and began training our couch loving bodies.
A physical challenge
As we walked the ancient cobblestone path in Portugal I focused solely on the mission at hand.  Take another step, drink water and don't trip.  That's pretty much what we did for 6 or 7 hours every day.  We took loads of breaks and walked at a relaxed pace.  The path was often filled with rocks, big and small, rough patches and those cobblestones were hard to walk on at times.  I had a habit of keeping my head down on the path so that I could see these hazards and avoid tripping.  However, I had to keep reminding myself to look up as I walked to see the magnificent natural beauty all around me. We walked through woods and corn fields, small villages and even climbed a mountain.  It was breathtaking and exhausting.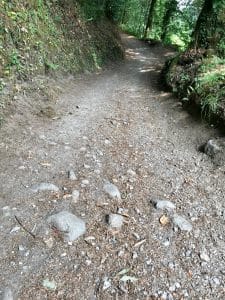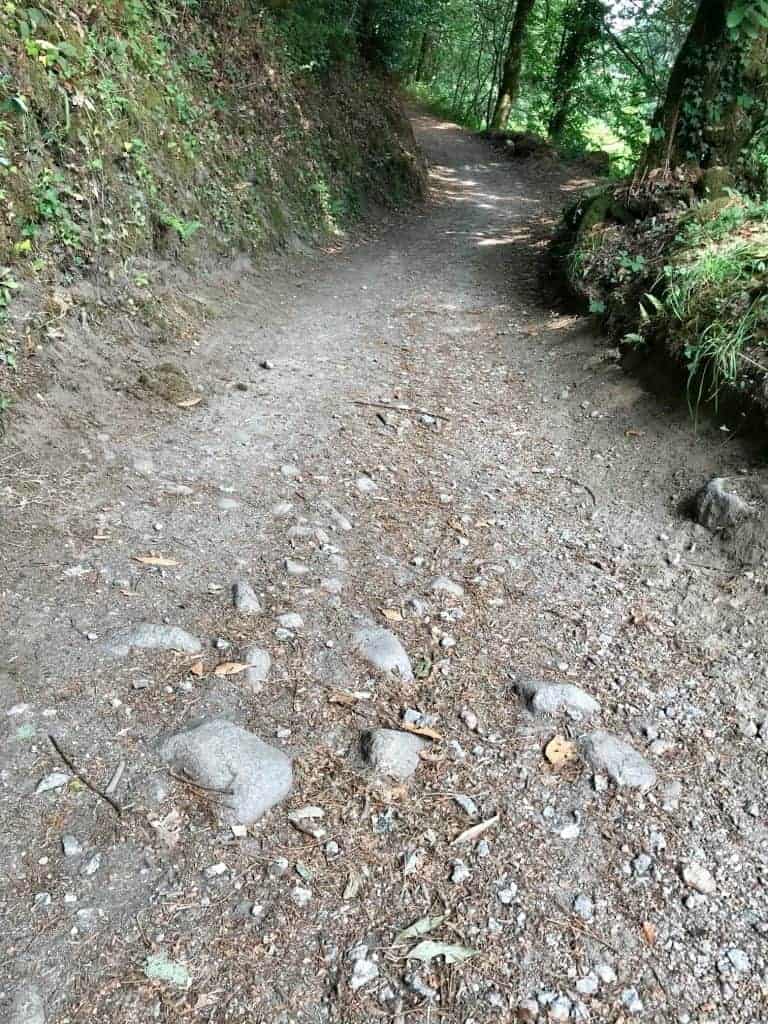 My point is that while I had to keep my eye on the path right in front of  me and be careful of hazards, I needed to look up and see what lay around me.  It's true in life as well.  We need to take care of our daily "to dos", but we can't lose sight of the path ahead and appreciate all the wonderful experiences that life brings to us, as long as we take time to notice.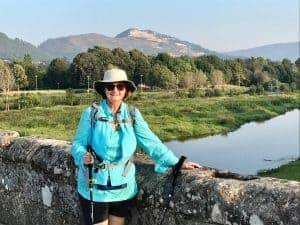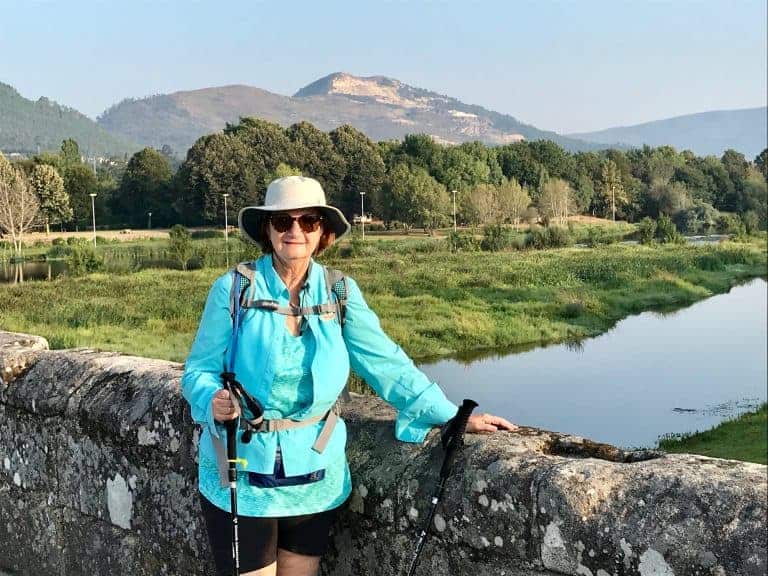 Be intentional about your self-care
As a caregiver, it's so hard to find time to look up and see what's happening outside of your responsibilities.  Caregiving can be all-consuming, exhausting, frustrating and isolating.  Try to find time every day – even for just 10 or 15 minutes to look up and look around, get outside.  Seek out a peaceful spot to enjoy a cup of tea or coffee.  Plan a short walk or spend some time with some enjoyable reading.  It won't happen unless you make it intentional, your day is so full that before you know it's dinner time and the whole evening routine takes over.
Even 15 minutes a day can help
Becoming so focused on doing what needs to be done, to the exclusion of experiencing moments of joy is a sure pathway to burn out.  Even in the midst of extraordinary beauty, I needed to remind myself to look up and enjoy it.  There is beauty around us every day, but we need to look up and take time to notice it.
Take care —- of yourself.
Breeda Miller
Breeda Miller is a speaker, author, and consultant.  If you are looking for a speaker to inspire, engage and tell some good stories, contact us at [email protected].