An original work written and performed by Breeda Miller
Directed by Brian Cox
Breeda Kelly Miller brings to life a funny and often profound look at her mother's journey from her native Ireland through the end of her life, charting the type of experiences felt by generations of immigrants and adults caring for their aged parents. This is a theatrical memoir, with Breeda performing each role, introducing us to her parents, their families, and friends.  Mrs. Kelly's Journey Home will keep audiences riveted from the opening line to the closing blessing. It is a moving, joyous exploration of love, roots, and family.
The Work
"Mrs. Kelly's Journey Home" is an original work that brings to the stage the experiences that are often unspoken by so many generations of immigrants and adults caring for their aged parents.  Recipient of the Wilde Award for Best One Person Show 2021-2022 by EncoreMichigan. This play would not have been possible without the unending support of so many wonderful people, many of whom knew and loved Mary Kelly. For those who didn't know her personally, they will get to know her and love her through this play.  She is surely delighted.
Who's Who
Breeda Kelly Miller
Author, Actor
Writing a play for the first time was not unike my caregiving experience, though a bit less messy.  I didn't know, what I didn't know and I needed to find help.  Fortune shined down up me in the person of Brian Cox, an award winning director, editor and author.  Brian encouraged me to develop this story and these characters.  I am forever grateful.
I grew up in an area called Downriver, just south of Detroit. I now make my home in rural Washtenaw County with my family and two dogs and two ginormous cats.  Calling myself a "recovering caregiver", I speak to organizations who help family and professional caregivers take better care of themselves so they are better able to care for others.  After two books and years of professional speaking events, "Mrs. Kelly's Journey Home" was exactly what I needed to create.
This play honors my mother, Mary Kelly. While my family story is personal to me, it's themes of family, generations, struggle and hope are universal.  I wrote this play to offer much-needed light, goodness and hope during the difficult times we are all experiencing.  My hope is that I will inspire others to think about their own stories and the impact small everyday decisions have on their life and the lives of others.  Ordinary experiences can make for extraordinary stories.  That's what Mrs. Kelly's Journey Home means to me.  God bless.
About Breeda
An author, speaker, playwright and actor, Breeda Miller has used her professional experience serving clients in health care organizations, corporations, academic institutions, and non-profit communities. Apart from her education, Breeda Miller came to her awareness of the value of self-care when she cared for her mother for nearly six years, including hospice care in her home. A lifelong Michigander, she is a graduate of the University of Detroit Mercy. A skilled storyteller, her video stories have gone viral and she has appeared on The Moth Story Hour on NPR. Her acclaimed one-woman play, Mrs. Kelly's Journey Home provides audiences with an entertaining and engaging theatrical experience that lifts hearts and provides memorable lessons.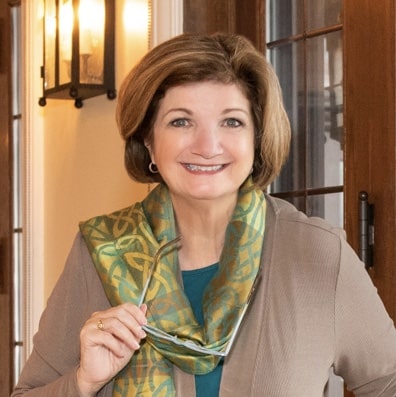 Is a trip to Ireland on your Someday List?
How about making this September your Someday?
Join Breeda and friends for a fabulous 10 day excursion to the best Ireland has to offer with the ease and comfort of Collette Tours.  Depart from the airport near you and meet us in Dublin on September 21, 2023
We will have a great time visiting the best "must see" locations with local guides leading the way.  It's a small group and we still have a few seats to fill, so grab your passort and follow this link: gateway.gocollette.com/link/1118857
Photo Gallery
Photos and publicity images from Mrs. Kelly's Journey Home performances and audience reviews. Click any image to open lightbox and see larger photos.
Production Elements
Mrs. Kelly's Journey Home is a one-woman show written and performed by Breeda Kelly Miller
Run time - 115 minutes
Two acts
Act 1. The Kellys arrive in America and become Americans (60 minutes)

Intermission (15 minutes)

Act 2. The Journey continues, not according to plan (40 minutes)
Recorded music - fully licensed to play 30 minutes prior to curtain.
Opening music - mournful instrumental piece begins performance

Recorded music to play during intermission

Closing music to play during final monologue (in heaven)

Exit music to play as audience departs - 10 minutes
Lighting - three areas of focus on the stage - fixed or cued, depending on theater's abilities
Sound - music played to the entire house, lavalier mic on Breeda
AV - large screen to project slide deck throughout performance.  Ideally, screen is placed center stage just over Breeda's head.  5'6" from the floor.
Slide deck - cued throughout performance.  43 slides
Staging/Set (w/photos)
Black curtain backdrop

Suspended or mounted screen for slides, center stage

Comfy small chair

Small side table

Rug  4' x 6" under chair and table - stage right

Placed 80" apart

Kitchen table (card table size - round or square) stage left

Kitchen or DR chair

Thrust configuration is preferred, traditional proscenium is good.

No curtain open or closing, no costume changes

Several props added during intermission for Act 2
Props (w/photos)
Most are provided by Breeda Miller. Depending on the location of the performance a few props may need to be provided by the venue:
Old fashioned teapot

China cup and saucer and cream jug

Folding aluminum walker
Merchandise
During intermission and following the performance a table shall be set up in the lobby for the sale of Mrs. Kelly's Journey Home merchandise and Breeda's books.
Items shall include:
Caregiver Coffeebreak Tip Book

Take a Break Before You Break Tip Book

Mrs. Kelly's Journey Home Teabag coaster

Mrs. Kelly's Journey Home Tea towels
All merchandise is owned, created and sold by Breeda Kelly Miller.  A percentage of sales may donated to a designated charity sponsoring the performance.
Publicity
Press Release
A press release template is provided and may be used by your organization with the option of adding details regarding your benefit or special event.
Program and Posters
A program template has been created and may be used by sponsoring organizations
Video Promos
A customized slide may be added to the video highlight reel with performance dates, venue and ticket information.
Mrs. Kelly's Journey Home Performance Options
Full length Professional Production - Available for limited theatrical engagements, fundraising events and conferences. Run time: 2 hours including a 15 minute intermission
Adapted Performance - Suitable for fundraising  and conference events. Run time: 2 hours including a 15 minute intermission
Conference/Event Performance  - Two options:
The Immigrant Journey - Hilarious and heart warming memoir of a family emigrating to America and becoming Americans (

45 minutes)

The Caregiver Journey - Entertaining and educational trip through caring for an elderly parent with dementia.    Lessons learned and powerful stories that teach with humor and love. (40 minutes)
Fundraising Events
If your organization is looking for a compelling and different sort of event to raise money - you can book a performance of Mrs. Kelly's Journey Home. It's a fabulous way to offer a memorable experience to your donors and along with a VIP reception a complete night out.
Travel
Breeda travels via Detroit Metropolitan Airport (DTW) or if within 300 miles of Ann Arbor, drives to your performance. Arrival two-three days prior to performance to rehearse and ensure all tech details are in place. Accommodations and travel expenses provided by client.